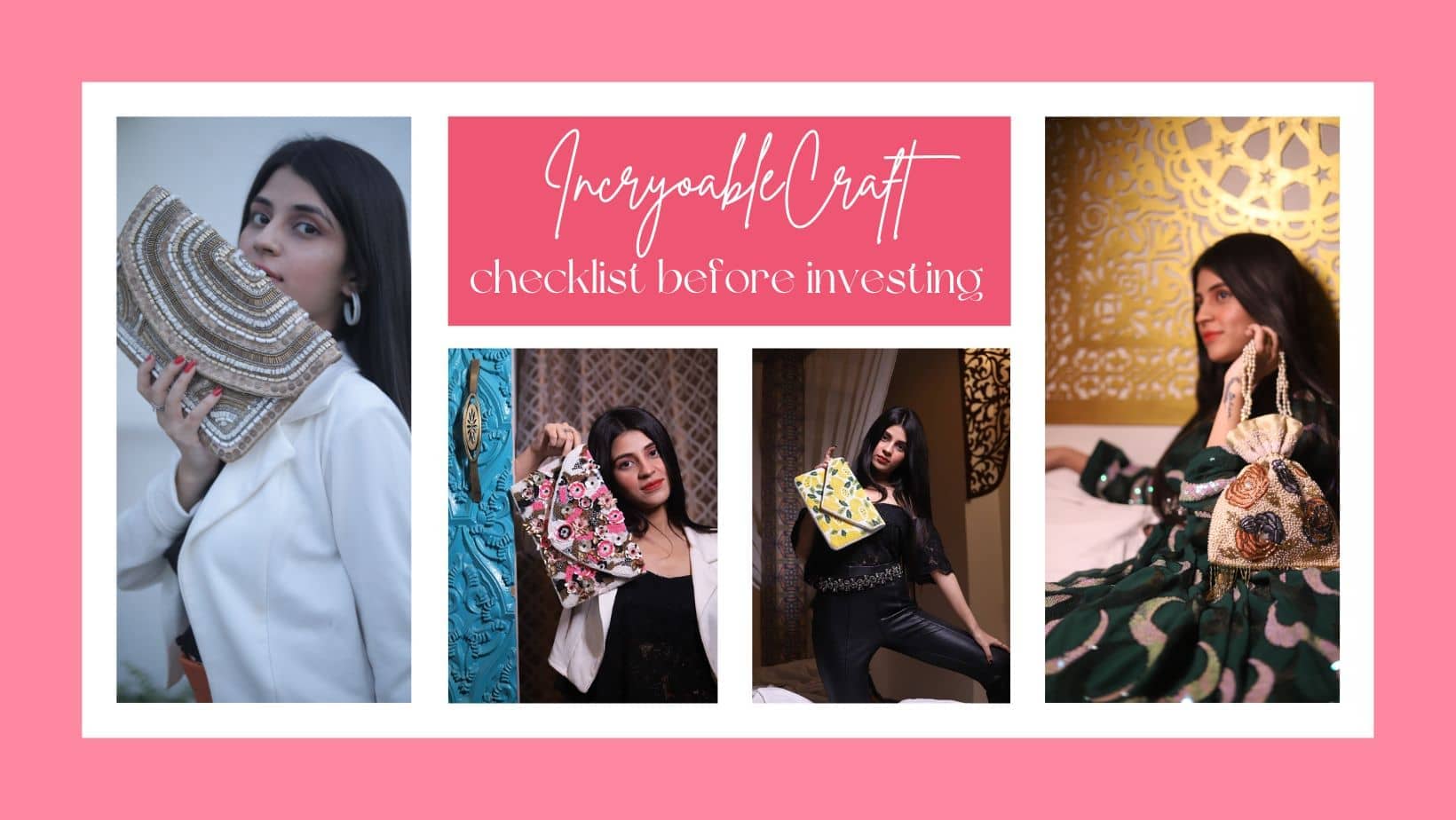 Accessories become the essential part of any look as it adds flavor and compliment your entire look. It has the power to make or break any attire of yours if not paired up in the right way. You can be wearing the most nice-looking dress yet look shabby with the wrong accessories. The Clutch is the king of accessories as it doesn't need any other thing to compliment it. The clutch bag can elevate your looks to another level, effortlessly!
Let's understand that a clutch purse is used only on special occasions, unlike other accessories that can be used every day. So, while investing in these kinds of items you must be aware before spending your hard-earned money. Incroyable craft has made your work a bit easier by creating a checklist before you invest in any clutch purse.
Budget –

Unlike most of the brands, we at 'Incroyable craft' do not promote or encourage the 'shop till you drop' policy. We understand that your money is valuable and needs to be spent on a lot of other things as well. Just like how you create your monthly budget so that you do not cross the limit of it, we want you to have a budget planned before you start looking for a clutch bag.

At 'Incroyable craft' you have a wide variety of incredibly good-looking clutch purses and potli bags to elevate your entire look without putting a hole in your pocket. Visit our online store 'Incroyable craft' to find a variety of pocket-friendly clutch purses. Our aim is to provide our customers with the best quality product at an affordable rate.


Invest in timeless pieces –

Putting up your money on any trendy item is fine as long as you are going to use that particular item frequently. But clutch bags are used occasionally and the trend changes every three to four months once. Always invest in timeless pieces which can be used and reused even after 10-15 years.

'Incroyable craft', being one of the biggest manufacturers and wholesalers of clutch purses in Delhi, can claim that our clutch bags don't get worn out or torn. We always proudly claim that our clutch purses and potlis are made from premium quality raw materials. Take a look at our store to find that perfect timeless clutch bag for yourself.


Versatility –

Isn't it exciting when you find out that the item you own has a multi-purpose? Then how about cautiously investing in a clutch bag which can be teamed up with most of your outfits? If you are buying a couple of pieces of clutch bags make sure that you identify those clutch purses which are versatile in nature. Imagine having a clutch purse that can be paired up with a saree, lehenga, suit, gowns, and bodycon dresses. Sounds wonderful, right? That will be the perfect 'paisa wasool' moment that is worth every penny.

Most of our clutches come with a metallic sling that helps you in changing your clutch bag to a sling bag.


Weight –

Admit that there are a lot of items lying in the corner of your cupboard that you loved while buying. Why does this happen? Because sometimes you
buy what you see, the design and the appearance. To realize later that it isn't practical enough to be used as frequently as you imagined.

The same goes with the clutch purses, you love them, you buy them. There are endless clutch bags in the market which is an eye-pleaser but those clutch purses end up giving you a strain on the back and shoulder because of their weight.

We can't stress enough that heavy clutch bags even have the tendency to ruin your good mood. So always and always invest your money in those clutch purses that are lighter in weight and can be carried without any hassle.

Most of the clutch bags at 'Incroyable craft' are so light that you wouldn't feel like carrying them. Visit our store 'Incroyable craft' and grab those lightweight clutch bags soon.


Space –

The Internet is full of those cute purses which are palm-sized and can't even accommodate a single lipstick in that clutch purse. Though it is cute but sadly of no use.

Unless you are a fashion model or you work in the fashion industry why would you want to invest in such clutch bags which only and only add the glam quotient to your outfit without serving any purpose?

Everybody's needs are different from one to another. Analyze and understand what you would need on those occasions when you'd be carrying the clutch purse. And before buying your clutch bag, make sure to check the amount of space it has to offer so that the clutch purse can accommodate at least your bare minimum essentials.

Clutch bags at 'Incroyable craft' are spacious and compact enough to be carried individually or even in your tote comfortably.

The above-mentioned checklist has elements that most people forget while looking for a clutch bag as they quickly fall for the designs and patterns. So, the next time you buy a clutch purse for yourself or your friend don't only look for the bags which match their personality but also the clutch purse which would match the requirements. At 'Incroyable craft' you will be spoiled for choices as it satisfies every need of yours, from design, quality, price, and everything.