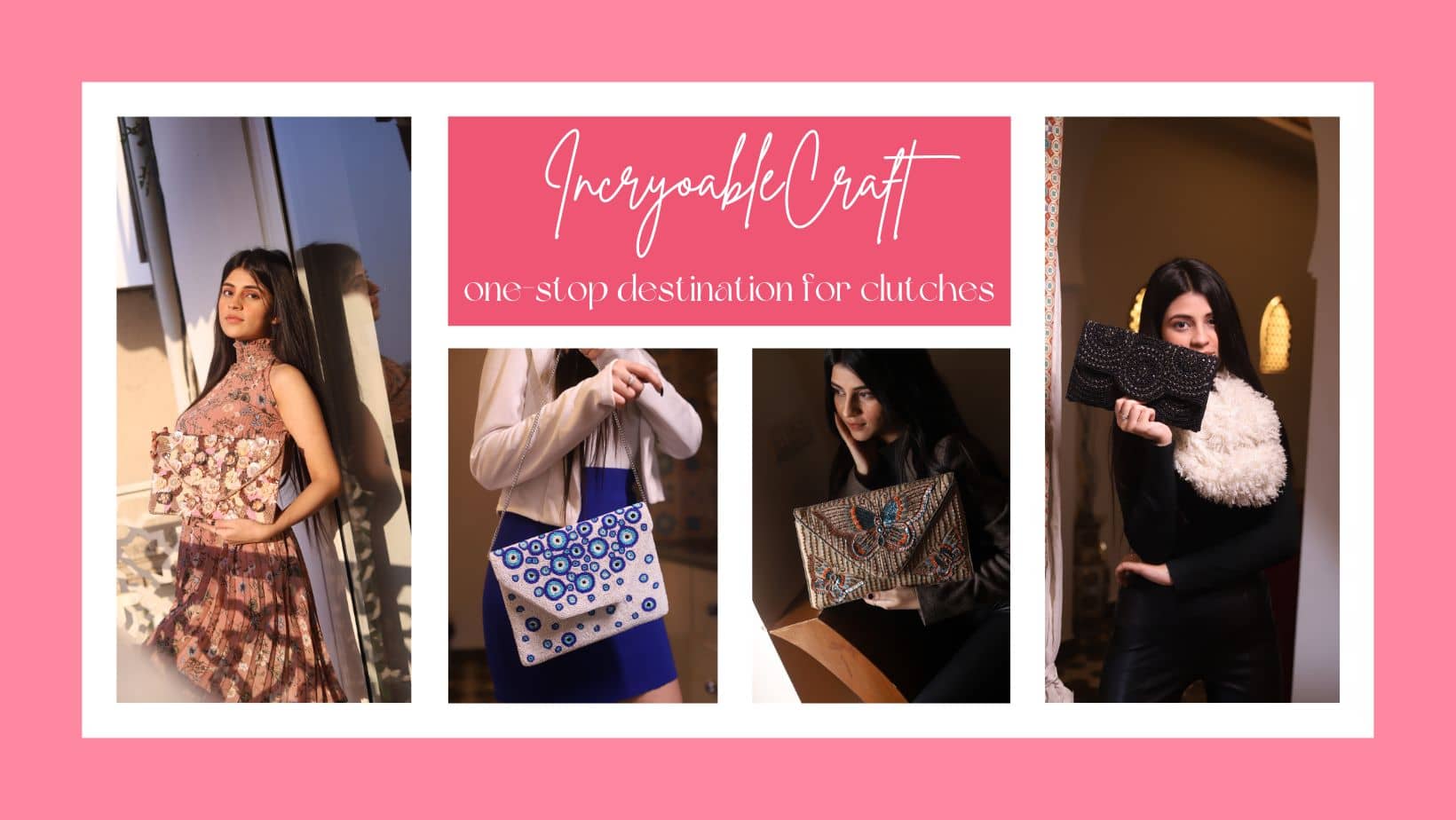 A clutch bag is a type of accessory which every girl and woman should have in their range of collections. A clutch bag becomes an important accessory because it can be paired with any attire be it casual, ethnic, formal, or party wear. We know that clutch bags come in different shapes, patterns and sizes. Clutch bags in themselves have a wide range of variety and we understand how burdensome it can get to check various stores even if it is online.

So keeping all these in mind we started our brand 'Incroyable Craft' to solve all these issues. We at 'Incroyable craft' understand your need for fashion, so we have a variety of clutches and clutch bags with extensive patterns and colors to match your requirements. 'Incroyable craft' is also the one-stop destination for all the girls out there looking for their perfect clutch. The price range of our clutch purses is super economical with highly exceptional quality which you wouldn't find anywhere else. We promise you that once you take a look at our clutch bags and potlis it wouldn't be easy to resist.

The bags at 'Incroyable craft' are handcrafted by our skilled craftsmen with lots of love to make every clutch purse look as pretty as in the picture. That means your clutch bag would be custom-made for you. And who doesn't love products that are made exclusively for them? Visit our store to witness all these by yourself.

We will take you through our wide variety of clutch purses to help you decide 'the one' for you.
Clutches –

Our effort was to add our own distinctive flavor to the basic clutch purses available in the market. We want our customers to stand out in the crowd whenever they carry our clutch purses.

We have exceptional designs in clutch purses with heavy embellishments of beads, sequins, crystals, and rhinestones. In clutches, 'Incroyable craft' has a wide variety which you can carry for the big fat wedding or to the intimate party at the office.

Sturdy metallic clutches –

These are the classic clutch purses in rectangular form with a metal body. We understand how busy everyone gets with the wedding shenanigans, so it becomes essential to have a few items handy with us. Our clutch purses will make sure to look ravishing but also will fit most of your essentials. It can be paired up with a saree, lehenga, and also a dress.

Envelope Clutches –

How can we forget about young girls who want the essence of a classy clutch bag but with a hint of trend in it? We have quite a range of envelope clutches that covers both subtle and over-the-top demands. Envelope clutches are our hot selling item as it is very trendy and easy to carry around. We are expanding our collection by adding some new launches of clutch purses very soon. These envelope clutches are handcrafted and heavily embellished with beads, pearls, and sequins


Coin purses –

Coin purses always ooze out cuteness because of their size. It is not necessary that you carry coins in your coin purses. You can carry any little items like your emergency medicines and sanitizer in your coin purses. We can bet you that you will be flooded with compliments once you carry coin purses from 'Incroyable craft.'

This coin purse can also be a cute gift for your nieces who are in their teens. They will not only love them but will also be gushing over them for a long period of time. Apart from the classic round and rectangular shape, we have coin purses in unique shapes and quirky quotes on them. We are pretty sure that once you explore our collection of coin purses at such a reasonable price you would end up buying multiple pieces


Potli bags –

There were days when potli bags were carried only by brides at their wedding and that would lie somewhere in the corner of your cupboard. Nowadays it has become very trendy as you see most of them carry in the weddings and family functions with their ethnic attire. How can we miss our evergreen Rekha Ji carries with her all the time, be it on the red carpet or on any talk show?

Potlis receive much love because of their shape which accommodates a lot of stuff. We have a stellar collection of potli bags which is loved by many of our customers. You'll find some appealing pieces which would be hard to resist. We also have some lightly embroidered potlis for those subtle girls. After knowing the range of variety 'Incroyable craft' is offering you, I am sure you will be tempted to add some of them to your collections soon. Did you know that we put our heart and soul to satisfy our customers? We always make sure that the product reaches you on or before time without creating any amount inconvenience to you.

If you have any upcoming event where you want to have a head-turning appearance then we would suggest you buy from 'Incroyable craft' now. Our pieces are going out of stock real soon. Stock them now before it's too late.